Got to the pool hall around 11:00 pm on Saturday night. Hit balls until 4:00 am and then hung-out with the owner for a couple of hours after he locked-up. It was still dark when I left so I hit a near by park to do some tot-lot scanning until it got a brighter. (Then I planned to hit a 4 or 5 other tot-lots - but that didn't happen.)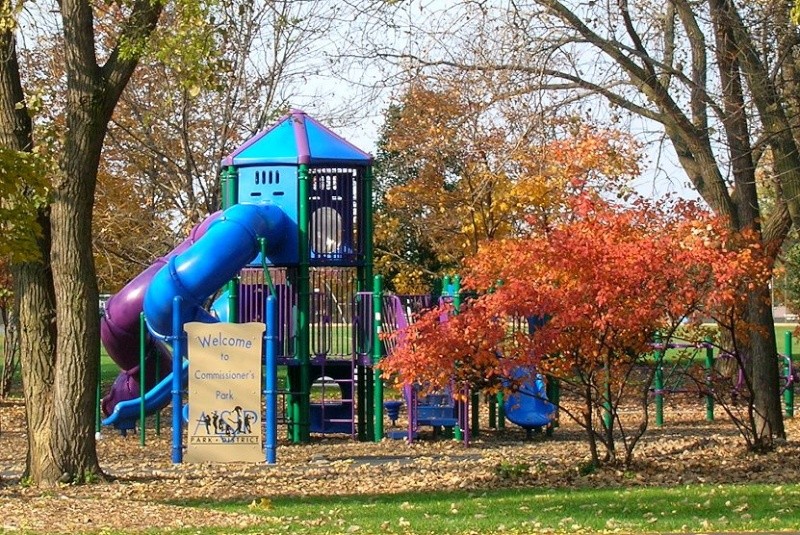 There weren't many coins in this tot-lot, but that's OK. It took me a long time to find each one in the dark. By the time I found the last coin, it was getting bright enough to do some coin-popping in the grass. I gave the picnic area a quick scan as well as the side-lines and bleacher areas by some soccer fields. Found some clad - enough to keep me scanning - but it was pretty bleak. I gave the volleyball courts a quick swing in all-metal mode, but they were empty. I was going to leave, but I thought I'd give the shore by the pond a quick swing.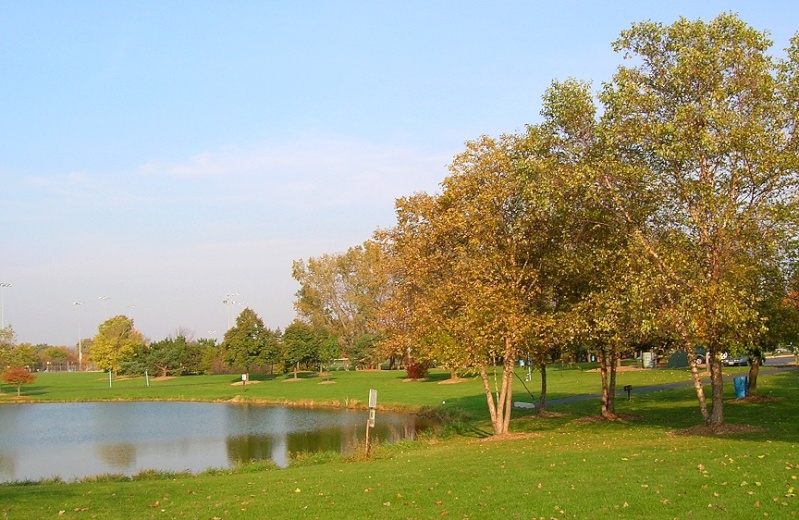 Found a few recently dropped coins and a few coins I missed when I cleaned the shore-line out last spring. At this point I'd been swinging for almost 3 hours and I felt like going home. The haul for the day was still bleak. Then I remembered seeing a guy laying under the trees a month or two ago. The trees are near the street but they give you shade and a nice view of the lake. Didn't expect to find anything but trash there - but I gave it a swing anyway.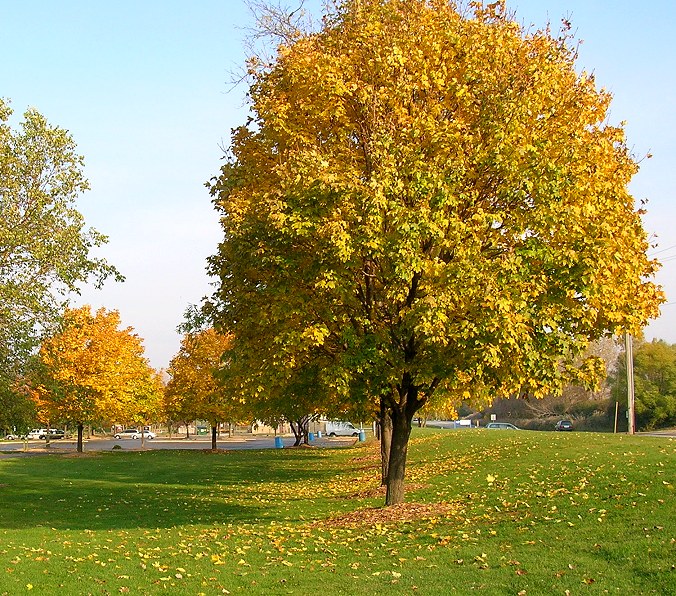 I started at the top of the rise above the trees. I found trash up there. As I worked my way down to the chips around the first tree, I had multiple targets. Turned out to be about 10 or 15 pennies in a 3 foot area. The grass was thick and it took a while to find them all with my probe. Then things began to pick-up. I began finding dimes and quarters as well as pennies as I worked grass between the trees. Made a pass below the tree-line and found a little less, but I was still finding stuff. I dropped down a little lower, popped a few pennies but I was getting too tired to continue. Made one more swing and heard 4 quarter-like targets close together. Popped a quarter, popped a large brown ring with stones, popped another quarter, then a large silver-looking ring with one stone. This made me want to continue swinging, but it was now 11:00 am and after 5 hours of swinging, I couldn't swing no more.
This is the first ring I popped. The back of the ring is a little flattened and it has a 14K mark on the inside. But this don't look like gold to me: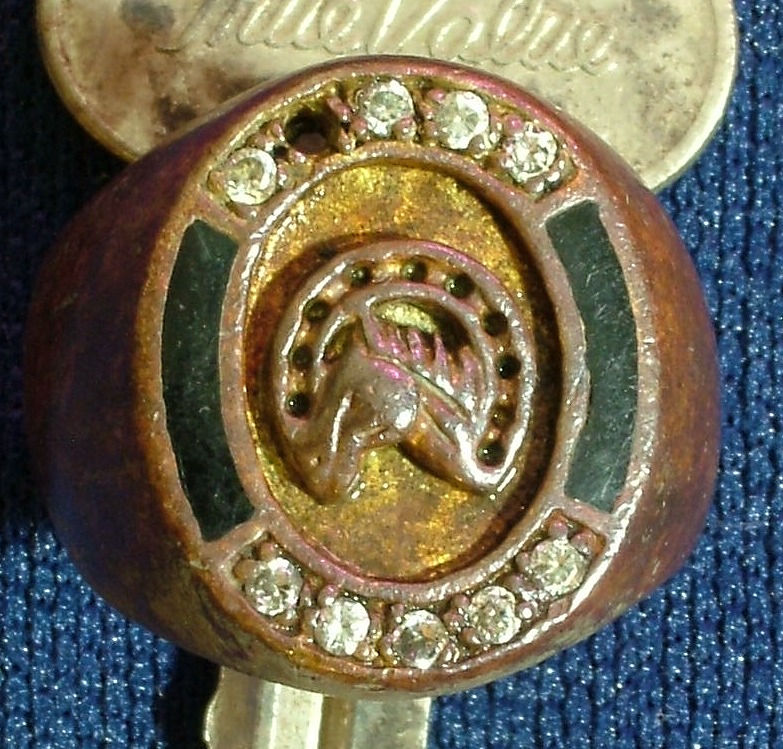 This is the silver-looking ring. No marks on the inside - just a big junky ring: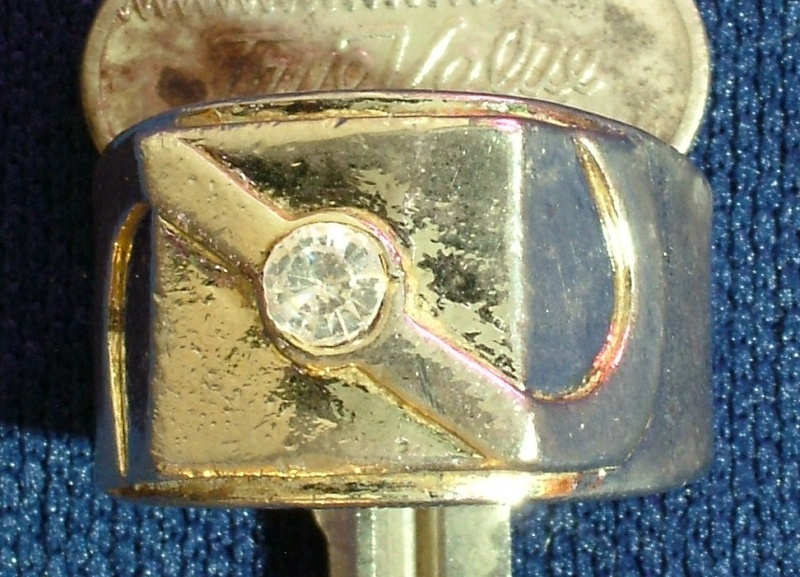 Here are a few other pieces of junk I popped:
The thing in the top-left is a spark-plug gapping guage.
Here's today's pile of clad: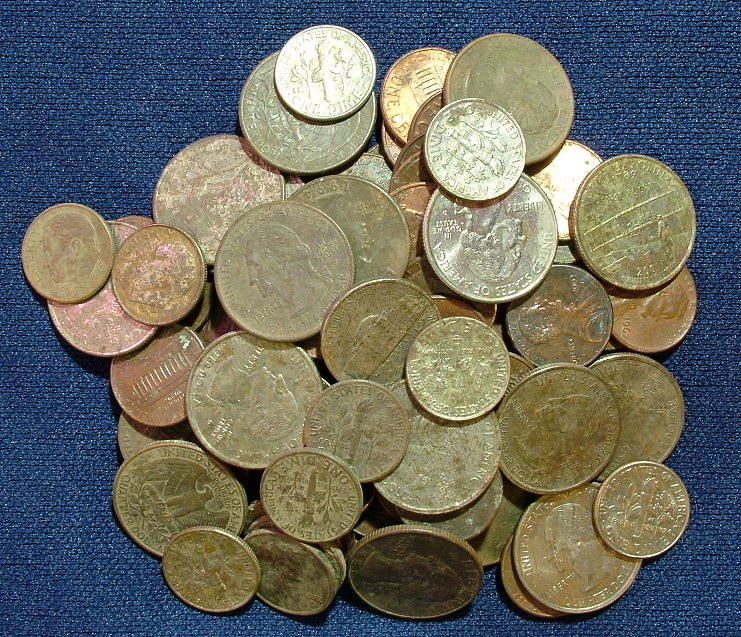 I didn't do too badly; 12 quarters, 9 dimes, 1 nickel, and 73 pennies - total $5.68. None of the coins are old.
Think I'll sneak back and finish that tree-line area next week.
HH
Rich